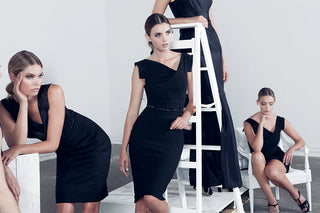 Black Halo
Black Halo Founder and Creative Director, Laurel Berman, has transformed the way women dress today with the iconic Jackie O dress; known for its versatility and ability to enhance a woman's figure, it laid the foundation for the brand's success as a leader in the contemporary dress market. Laurels' architectural designs summon a natural inner beauty and confidence that are both liberating and empowering.

In 2012, the brand debuted a cocktail and evening wear collection, Black Halo EVE by Laurel Berman, broadening their appeal to existing clientele while reaching a new audience. The brand has grown to include jumpsuits, two-piece dressing and separates.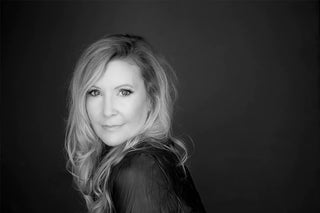 Laurel Berman
Born in Spokane Washington, Laurel graduated from Washington State University with a Bachelor's degree in Political Science before attending The San Francisco Academy of Fashion. After graduation she relocated to Los Angeles to a bungalow on the canals near Venice beach to follow her dream. Her first job in fashion was as a glamorous customer service agent where she made every excuse possible to hang out in the design room. Through proximity and determination she was able to transition into an assistant designer position where she honed her skills.

Her next gig garnered the Designer title in the Junior Sportswear and Dress market selling Contempo Casuals, Wet Seal and the like. A few years later, she made a move into the Contemporary market before landing at a private label manufacturer where she spent nearly 7 years generating 50 to 80 million dollars a year in the private label dress division. Looking for a challenge and the freedom to create was the inspiration needed to envision Black Halo which launched in 2002.

Laurel is a seasoned traveler and avid people watcher drawing inspiration for her collections from the pleasures and plight of daily life. A devoted yogi, she seizes the opportunity to practice no matter where she is in the world. She balances her time in Los Angeles with her love of travel by enjoying live music and the cities diverse food scene with her husband and Co-Founder, Sean Pattison.

Beyond the collections, Laurel supports charitable organizations including Dress for Success that empowers women to achieve economic independence. Planet Hope whose mission is to empower and embolden those living in crisis and to inspire hope in their daily lives.